Ebony Pyramid Black Gay and Lesbian Cruise to the Bahamas
Okay, I'm cutting out a lot of the miscellany because that was in the last blog I wrote that got deleted, all you're getting now are the facts.
I got attached to EPE at the end of the last year after Montoya who I'd worked with as part of Los Angeles Black Gay Pride recommended me to be the western regional administrator. Montoya moved to the ATL last year sometime and I don't think he and I have ever had a conversation but he was familiar with me and what I do and thought I'd be a good rep. After a telephone interview with Alton and Dujuan, they attached me to represent the cruise.
The cruise started on land actually and those of us on the EPE staff had to show up the day before the guests to get everything ready for them. Sean, my Cali back-up and I flew in coincidentally on the same flight, a red eye, and because we have the same last name, we quickly instituted an inside joke of being married and called each other "hubby" and "dear" all weekend.
We hit the ground running on Wednesday, flying in at 7:30 AM, checking into the hotel and then finding something to eat and going to Walgreen's so Sean could replace all the tioletries airport security unapologetically dumped into their gray wastebuckets. After that, we had a little time to wink (not nap, wink) before the entire staff had to convene for our 12:30 meeting, afterwards the staff got to work putting together guest packets while the EPE entertainment staff went somewhere to rehearse their show.
Me with my baby Butterfly Soul:
Thursday morning, we rose early to meet the guests in our yellow polo shirts. See?
This isn't all of us. It does include TT, Alton, Dede, Me, Elias, Felicia, Mia and my friend Sylvia who came as a guest, though.
Thursday night brought the costume party, I dressed up as a devil and the paranoia my Catholic butt felt for dressing as a devil is a blog entry waiting to happen. Frugality won, though. (BTW, when you see this costume again on Halloween, act like it's the first time you've ever seen it, k? haha!)
Also during the evening, the exotic dancers Temptation, K-Rock, Tyson, Star, Sparkle and the woman who would be my cabinmate on the boat, Whiplash performed their show with illusionists Tommy Rock, Monet Dupree and Whitney France:
Temptation (sorry I shopped your head off, boo! ;))
K-Rock who embarrassed me at the Hard Rock Cafe in the Bahamas by simulating a freak show on me *blush*
Bad boy Tyson
Star & Sparkle
My girl Whiplash!
The dancers and illusionists did an elaborate show of fairy tales. In one, Whiplash was Little Red Riding Hood and Tyson the Big Bad Wolf in another, Star was Cinderella and Monet was the fairy godmother. It was an erotic show/Broadway production all in one and it was EXCELLENT. The pics of K-Rock and Tyson above are of them as Prince Charmings.
For the sake of brevity, for the remainder of this journal, I'll identify pictures but leave out the personal commentary lest this turn into a book:
Friday morning, inside the boat (view from the lido deck):
Smiling faces and new friends:
My boy Dwain
Me with Monty and Adrian. These brothas are hilarious!
But before you start thinking there weren't any women on the cruise. You're sadly mistaken:
>
Me and Myspacer Alice (who lives in the Bahamas) at the Hard Rock Cafe in the Bahamas
Friday night on the boat, we had an all-white affair:
I LOOOOVE Elias!!
Saturday was fun in the sun at Paradise Island in the Bahamas:
Here's Tyson deciding at the last second that he actually DOES want to be in the picture I was taking of Butterfly, Patrick and Whiplash:
From there, it was booty-booty-booty-booty booty EVERYWHERE! And EPE provided complimentary Mai Thai's so you know what that means...we had a GOOD time!!!
Me, Whiplash and Sparkle gettin' our Top Model On
After the beach, we got our shop ON. Whitney got two FABULOUS bags for dirt cheap and that broad could NOT have been happier!
Later that night, we enjoyed a great turnout at the Hard Rock Cafe in the Bahamas, unfortunately those pictures need to be lightened because it was so dark inside but I do have some pics to show:
K-Rock
Temptation
Star
We spent Sunday on the boat where we enjoyed an afternoon of games and then later had the 70's affair: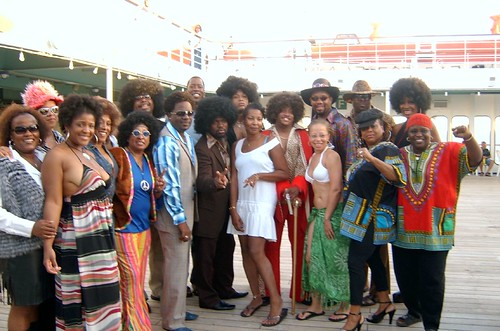 Monday we said our goodbyes as we left the boat...*sniff*
My friend Sylvia and I didn't come home right away, though, she and I and a few others stayed in South Beach a cute little hotel until Wednesday.
Will, Lisa, Sylvia, Me, Angello & Jimmy
What'd we do with most of our time? We went shopping:
Like my hat?
Honestly, I had the most incredible time during this cruise, everyone is down to earth, lots of fun and drama-free. EPE is super-professional, well organized and gives its guests lots of events to participate in. I can't put into words how much I want you to participate next year. Early registration for the cruise starts in November, average cost for the cruise is $500 or so for an inside cabin, pay around $60 a month from November to July and your cruise'll be paid in full by the time the payment plan ends late July. Tell me it's not worth $60 a month to spend 5 days in Paradise. Join us next year.
More pictures:
P.S. I came home to find that I'd misplaced my oh-so-expensive group pictures taken by the cruise photographer. Those pics give a much more accurate view of the over 200 black gay and lesbian folks who went on the cruise. As it stand, the only group pic I have is the 70's pic above and that is by far the least attended group picture of the the 3 we took. =(
Wanna see more? Click
here
for even more pictures.